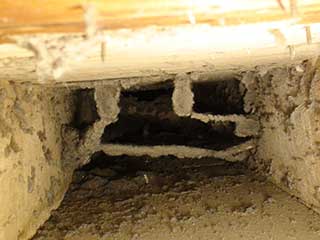 Have you ever asked yourself how air ducts get dirty in the first place? How can tubes that are sealed and protected, often be filled with so much dirt? The question you should be asking is whether they are sealed well enough. After all, they are the vessels through which the air travels - and it doesn't travel alone. The air which ends up in our homes is not free of contaminants. The only difference is that air pollution doesn't hurt us when we're in the open as much as it hurts us when we are in confined spaces.
How Do Air Ducts Get Contaminated?
Air coming from outside already contains some allergens. Is that enough for duct contamination? No, it's not! What makes things worse is that ducts are not often sealed well. They might have cracks and fissures through which great amounts of dust enters the tubes. Since they are usually installed in basements and attics that are hardly ventilated, the moisture level goes up; humidity which encourages mold growth. Air traveling through tubes filled with debris and mildew will definitely not be clean! So, how can we prevent duct contamination and, thus, poor indoor air quality at home? Are there really solutions?
How to Perform Air Duct Maintenance?
The best way to prevent problems is regular air duct maintenance. With ducts checked regularly, you will know the extent of such problems and take the right actions. You will determine straight away if you need to make modifications, repair and seal ducts, or remove mildew. Since contamination is caused by over accumulated dirt and moisture, you must prevent both from entering the ducts. In order to control moisture and, thus, biological growth, make sure the ducts are properly sealed. Potential leaks can be fixed with repair seal which will ensure the ducts are properly sealed and every other crack on the duct walls likewise. An additional thing to do is to check and repair the cooling coils if they don't drain properly and insulate the ducts so that they won't be affected by the humidity of the environment.
How to Deal With Dust and Debris?
As far as debris is concerned, you must clean and replace the air duct filters regularly. As these are basically the gateway from the out-doors air to your home, they can easily be harmed by pollutants. If the filters are damaged or clogged much too often, this means it's time to have them replaced. There are various filters available on the market to choose from, some of which are better and some of which are not. Our team of technicians can happily advise you on which one is best and most suitable for your home's purposes. Additionally, make sure the ducts are checked at least once a year and if debris is visible, scheduled for a cleaning service immediately. Likewise, if you do any construction work in your house, cover all the existent registers and do not turn on the HVAC system until the work is over and the whole house is properly cleaned from dust.
Count on the Professionals!
Whether you need cleaning or maintenance services for your air ducts, our expert team from Air Duct Cleaning Fremont is readily available at any moment of the day. Our technicians are perfectly equipped with knowledge and tools to resolve even the worst of your ductwork cases. Schedule your appointment today!