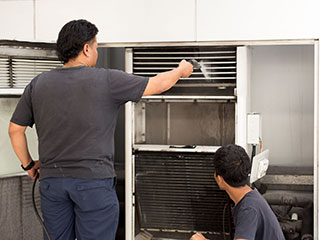 The efficiency of the HVAC system depends not only on its technology, design and make, but also on how well maintained it is. Proper cleaning and maintenance involves an important set of tasks. More importantly, it covers all parts of the system including the evaporator coil and condenser unit.
HVAC Unit Cleaning
As part of the annual maintenance, the units of the system must be thoroughly cleaned. It is best to start with the removal of the debris around the outdoor condenser unit before cleaning the fins. Depending on the amount and type of dirt accumulated, the methods range from vacuuming to washing with safe and potent solutions. If you happen to find mold, it will require special treatment depending on its type. When it comes to the blower compartment of the evaporator coil, all dust and dirt accumulated in the drain pan and tubes has to be removed.
Air Filter Replacement
Both units have filters. It's very useful to clean it, but a replacement will make the HVAC system even more energy-efficient and safe. It pays off to check the condition of the filters closely however if you want to be sure you make the right decision. If you choose to opt for new filters, these should fit into the system and unit, should be easy to clean and have a long useful life. Ideally, they will capture even the smallest particles and microorganisms and block their intrusion into your air.
HVAC Unit Repair
If you want to make sure your HVAC unit is in a good condition, next to cleaning it's also best to also opt for a thorough inspection. If you discover any physical damage ranging from scratches, dents and chips to holes, it's time to employ a repair service. Less often, the components can get damaged by water, heat and mold. In such cases, replacement is your go-to solution. It all depends on the extent of the damage.
Air Duct Cleaning
The level of contaminant accumulation inside the ducts depends on several factors. These range from the level of air pollution in the local area to the frequency and effectiveness of HVAC maintenance. In any case, the ducts should be checked for dust and dirt accumulations as well as for damage. If such accumulations are found, they have to be loosened up and extracted with a powerful yet gentle vacuum. If you want to remove any mold from the system, you'll need to use some special products to properly remove any growths and sanitize the area.
Count on Our Professionals
With our professional HVAC unit cleaning services, you will get excellent results fast. Our technicians from Air Duct Cleaning Fremont are here to save you time, effort and money. You can always count on our team whatever the needs - HVAC units, ducts, filters and whole systems.