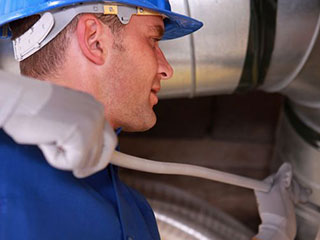 Many people do not recognize the importance of air duct cleaning and therefore decide to leave this aspect out of their home's regular chores. Maybe one reason for it is that it is difficult to see the amount of dirt, allergens and mildew that collects in the air ducts. These particles remain hidden, giving the impression that households are perfectly clean when in fact the vents send out pollutants in the air. That is why it's essential to opt for professional ductwork cleaning services if given the opportunity.
Hire Professional Help
An air duct cleaning service will remove all dust, pollutants, allergens, mildew or molds from your ventilation system. If the equipment hasn't been cleaned for years, there will be debris and dirt that is difficult to remove, but with efficient tools and solutions, all impurities from your air duct will disappear. You may also choose to be a do-it-yourselfer, however this will not ensure that your air will indeed be free of all those harmful particles.
Perform Regular Maintenance
It is not just a one-time cleaning that your ductwork is in need of; regular maintenance is just as important. After all the dust, debris and impurities have been removed from your ventilation system, it's important to make sure they will not be coming back. Regardless of how much you try to avoid it, a certain degree of pollution will pass through your air filters (unless you happen to be located somewhere in the mountains with oxygen-rich air). As this is unavoidable, it's important to get your ductwork cleaned on a regular basis. It's recommended to call a professional technician in for regular maintenance. This will keep your home free from all the harmful particles that reside outside your doors.
Using the Right Tools
The cleaning process of air ducts is not easy. Because this equipment is very narrow, it is difficult to clean it from deep within, if you attempt to do it yourself. Nonetheless, professional air duct cleaning providers that have the right tools that go deep inside the vents, can extract all dirt, mildew and debris that accumulated there over time. Your investment will additionally pay off in the future, not just by providing you with clean air to breathe but also by taking some burden off your HVAC system and saving up on your energy bills.
Schedule for a Session Today
There are many advantages that air duct cleaning can bring to your home. You will have fresh, clean air to breathe again and ensure your household's safety; not to mention the cuts on your energy bills advantage. Our team of professionals from Air Duct Cleaning Fremont will be happy to give you a hand in this process!